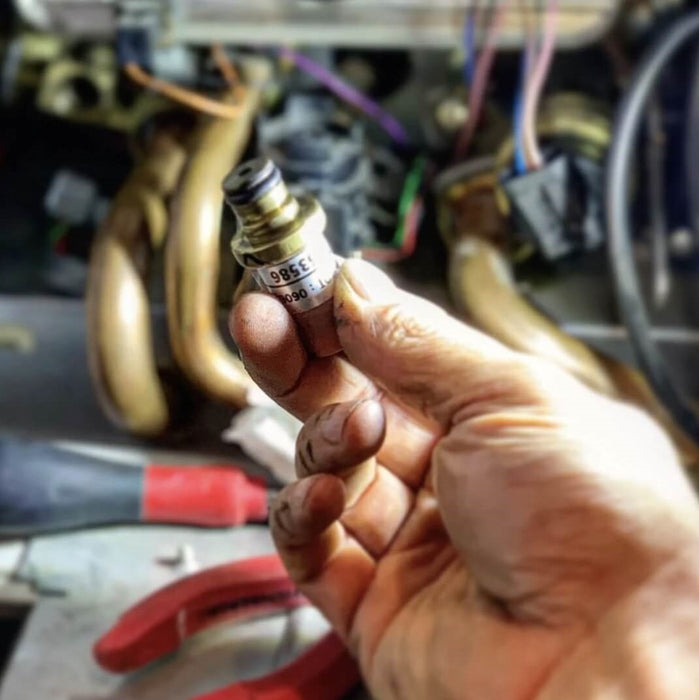 Have our gas safe engineers come out to your home and repair a fault or leak on your gas condensing boiler. 
Description
Gas boilers play a crucial role in providing warmth, hot water, and comfort in many homes throughout Loughton, Buckhurst Hill, and Woodford Green. Over time, they may experience wear and tear or develop faults that could impact efficiency and safety. To ensure optimal performance and prevent accidents, having your gas boiler serviced and repaired by a professional is essential. 
The first step towards repairing a gas boiler is diagnosing the issue at hand. Common problems include inadequate heating, low water pressure, faulty thermostats, or even unusual noises originating from the system. In some cases, the issue might be as simple as dirt accumulation within the filters, burner or heat exchanger. In others, it could be an indication of a more complex mechanical malfunction that requires expert attention. 
Once the problem has been identified, it's essential to contact one of our Gas Safe registered engineers to handle the repair work in Loughton, Buckhurst Hill, or Woodford Green. Our heating engineers have undergone rigorous training and certification to work on gas appliances safely and efficiently while adhering to strict industry regulations. 
The repair process begins with the engineer inspecting your gas boiler to further assess the fault. Based on their findings, they will provide an estimated cost for repairs along with suggested solutions to rectify any issues. Bear in mind that choosing genuine manufacturer parts helps ensure the longevity of your boiler while preventing future breakdowns. 
In some instances, a boiler may be beyond economical repair (BER), especially if it's significantly old or has been subject to recurring repairs. In such situations, investing in a new energy-efficient model is highly advisable for long-term financial savings and improved performance. 
As a homeowner in Loughton, Buckhurst Hill or Woodford Green area, regular maintenance checks cannot be stressed enough for prolonging your gas boiler's lifespan. Annual servicing is crucial in detecting minor issues before they escalate into costly repairs or even dangerous situations, see our services page here.
One of the most common issues faced by homeowners in Loughton, Buckhurst Hill and Woodford Green is a leaking boiler. This can be caused by several factors, such as faulty valves, corroded pipes, or damaged seals. If you notice any visible leaks around your boiler or see drops of water on the floor underneath it, call us right away. The sooner the issue is addressed, the less damage it will cause to your property. 
Another problem that can occur with gas boilers is low pressure. This can lead to poor heating performance and cold radiators throughout your home. You can check your boiler's pressure gauge to see if it falls below the recommended level – typically around 1 bar. If it does, you may have a leak in the system or need to bleed your radiators. Our gas engineers will be able to diagnose and fix this issue quickly. 
In Loughton, Buckhurst Hill and Woodford Green, homeowners should ensure their boilers receive an annual service from one of our qualified professionals. This preventative measure allows for potential faults to be identified early and rectified before they lead to costly repairs or replacements.
Booking info
 

Fill out our booking form,

 We will contact you to confirm the details and assign an engineer to your job.
Boiler models we repair
Boiler manufacturer's makes and models are listed below, combi, system and heat-only/regular boilers. Please call us if your boiler model is not listed and our team will kindly advise if this is a brand we cover. 
Vaillant - Ecotec, EcoFit,

Worcester - Greenstar, Si, Life, Style, Compact,

Viessmann - Vitodens, 

Baxi - Ecoblue, Duo-Tec, Platinum,

Ideal - Classic, Vogue, Logic

Glow-worm - Energy, Ultimate, Easycom, Compact,

Keston 
Terms of service
 Replace parts for an additional cost.

 All prices are plus Vat. 
Our minimum charge on-site for an engineer is 1 hour.


Call our team for further assistance with this service: 020 3795 8881
Company Gas Safe ID: 565 894