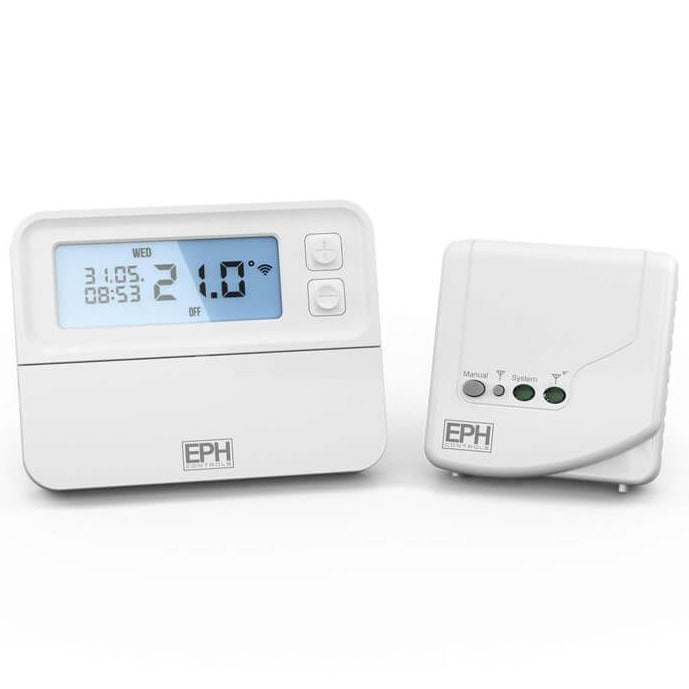 CP4 (COMBIPACK4) – OpenTherm® Programmable RF Thermostat. Digital RF
The EPH CP4 Combipack 4 is a Boiler Plus compliant, digital RF programmable room thermostat and receiver that offers a user-friendly and cost-effective solution for controlling your home's heating and hot water.
Product details
The EPH CP4 Combipack 4 is pre-paired for easy installation. Once the receiver is wired to your boiler, it's ready to go. It allows for flexible control with options available including 7 day, weekdays/weekend, or 24 hours programming. You can also choose to boost for 1 hour and a holiday mode is available for when you are away.
This product is designed with a sleek pure white casing to suit any interior. It allows you to reduce your energy bills with time and temperature control of your heating & hot water - anywhere. The system supports multi-zone control up to 6 zones via OpenTherm® by adding more thermostats. Hot water control is also possible with the addition of CP4-HW-OT to the system.
Key Features
Boost Function: This feature allows for a temporary increase in the heat output of your heating system.
Holiday Mode: This mode allows you to set your heating system to a lower setting while you're away, saving energy and money.
Battery Operated: The thermostat is powered by batteries, allowing for easy installation and operation.
Keypad Lock: This feature prevents accidental changes to your settings.
Portable or Wall Mounted: The thermostat can be either placed on a stand or mounted on the wall, providing flexibility in installation.
OpenTherm: This feature allows for more efficient control of your heating system, potentially saving energy and reducing costs.
EPH CP4 Box Contents
Instructions
Power Supply
RFRP-OT Thermostat
RFIA-OT Receiver
2x AA Battery